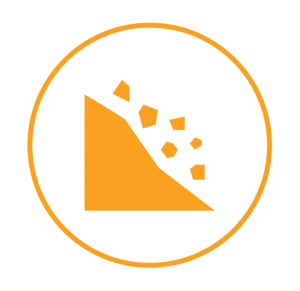 Our niche and specialisation lie in the field of geotechnical engineering. This involves design of heavy and complex foundations, raft foundations, earth structures, ground and soil improvement, and slope remedial works. Special skills are also available in the field of engineering geology providing support to this division in the design of rock slopes, tunnels, dams etc.
DESIGN AND SUPERVISION OF DEBRIS FLOW CATCH FENCE AT VARIOUS LOCATIONS OF NSE.
PROPOSED FAIRLANE SERVICE RESIDENCE AT JALAN WALTER GRENIER, KUALA LUMPUR.
DESIGN AND SUPERVISION OF THE CONTIGUOS BORED PILE WALL FOR DEEP BASEMENT EXCAVATION IN THE LOT G KL SENTRAL.
We are known as a research team conducting of landmark landslides and slope failures investigation for various Government Agencies (Public Works Department and Malaysia Highway Authority) and Highway Concessionaires. Notable appointments include;
Rock slope failure investigation and remedial solution at Bukit Lanjan of the New Klang Valley Expressway (NKVE) for PLUS Expressway Berhad (2003).
Lanslides investigation and remedial solution of Bukit Antarabangsa, Ulu Kelang, Selangor for the Government of Malaysia (2008).
Slope rehabilitation scheme at Seri Manjung Reservoir, Mukim Lumut, Perak for Lembaga Air Perak (2014).
Rock slope stabilization works at KM263.88 South Bound, North-South Expressway (2016). Slope rehabilitation works at various locations for Syarikat Bekalan Air Selangor.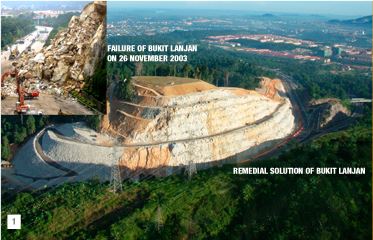 1. FAILURE INVESTIGATION AT KM21.8 BUKIT LANJAN INTERCHANGE, OF THE NEW KLANG VALLEY EXPRESSWAY.
CLIENT : PLUS EXPRESSWAY BERHAD.

2. INVESTIGATION ON THE CONSTRUCTION ACCIDENT OF 'THE CURVE' AT MUTIARA DAMANSARA, PETALING JAYA, SELANGOR
CLIENT: MAJLIS PERBANDARAN PETALING JAYA (MPPJ).

3. THE COLLAPSE OF THE SINGLE STOREY MARKETING CENTRE BUILDING AT LEDANG HEIGHTS, MUKIM PULAI BANDAR NUSAJAYA, JOHOR DARUL TAKZIM.
CLIENT: BANDAR NUSAJAYA DEVELOPMENT SDN. BHD.

4. EMBANKMENT FAILURE AT KUANTAN INTERCHANGE EAST COAST EXPRESSWAY.
CLIENT: MTD CAPITAL BERHAD
Some of the works include;
Foundation design of LRT viaducts for Syarikat Prasarana Negara Berhad.
Design of foundation and retaining wall system for basement and piling system at Paradigm Mall, Kelana Jaya for Jelas Puri Sdn Bhd.
Pile raft foundation design and the substructure system for MAS Building, Jalan Sultan Ismail, Kuala Lumpur.
Design of foundation and retaining wall system for basement and piling system at Lot G, KL Sentral Building for MRCB.
Design of foundation and retaining wall system for basement and piling system for ISOLA Apartment, Subang Jaya for Sime Darby Properties.
Some of our notable accomplishments are:
Checking the tunnel construction and proposed design for the Double Track Railway Line (Berapit Tunnel) that passes through the North South Expressway in Malaysia for the Highway Concessionaire (PLUS) of Malaysia.
Checking the design and construction of the Coal Terminal Port in Jakarta, Indonesia for MTD Corporation.
Checking the rock stabilisation and support system at Jabal Omar Township, Makkah, Kingdom of Saudi Arabia.
Checking the design of the largest Police Headquarters (40 storey structure), Bukit Aman, Kuala Lumpur.
Independent geotechnical audit for Federal Government Administrative Centre at Ayer Keroh, Malacca.
Independent checker for Geotechnical works for Kompleks Kerja Raya 2, Jalan Sultan Salahuddin, KualaLumpur.
Landslide investigation and expert opinion on the removal of debris and rectification works for anchor slope failure Bukit Setiawangsa, Kuala Lumpur.